Media Report – Interview with Bella Wang: Focusing on HID's commitment to sustainability
14-09-2023
Finding and keeping the balance between dredging, protecting coastline structures and conserving the environment is an important task.
Nowadays, extreme climate events such as coastal erosion, droughts and flooding occur at an increasingly alarming rate worldwide. Also, sediments and floating debris collect on structures during floods, clogging waterways and thus creating dangerous situations.
One of the companies deeply involved in finding solutions and bringing new products for a better marine environment to the dredging and coastal protection markets is Shandong Haohai Dredging Equipment Co. Ltd (HID Dredging).
A lot of successful deliveries and some other important business achievements gave us enough good reasons to interview Ms. Bella Wang, General Manager, Global Sales at HID Dredging.
Q: Overall, the last two years were challenging around the globe in many ways, how did your company sail through that period?
Ms. Bella Wang: Firstly, HID Dredging company has adopted flexible business strategies to adapt to the rapidly changing economic landscape. By innovating and diversifying our business, we aim to explore new markets and find new growth opportunities.
Secondly, strengthening collaboration and communication has become crucial. The company has been working closely with customers, supply chains and intergovernmental cooperative organizations to find an environment that helps create a favorable environment for business operations and growth.
Thirdly, the global health crisis has necessitated a rethinking of workplace practices. HID Dredging has implemented remote work options and enhanced health and safety measures to protect their workforce and maintain operational continuity.
In conclusion, HID has responded to the challenges of the past two years through adaptive strategies, collaboration, technological innovation, and a commitment to sustainability.
Q: What is in the pipeline at the moment and what are the solutions that HID team is currently working on?
Ms. Bella Wang: HID Dredger, as a global solution provider of an ecological dredging system, focuses on innovative high-end intelligent dredging equipment and services for global clients.
The HID team is investing in research and development of high-end intelligent dredging equipment. Leverage full automation and intelligence, to streamline operations, increase productivity, minimize environmental impact, and enhance the overall effectiveness of dredging operations, to truly create value for customers.
Meanwhile, HID is actively fostering collaborations with international partners, and cooperation by intergovernmental cooperation organizations. This helps create a more stable and predictable business environment for our clients.
We insist on investing in the development of its workforce. Providing training programs and skill development opportunities to ensure that our employees have the expertise needed to operate advanced technologies and tackle complex challenges is very important.
Q: Your organization joined the Shanghai Cooperation Organization (SCO) recently, and also signed partnership with Mr. Altai Borubaev, the National Science Academician from Kyrgyzstan. What does that mean for HID?
Ms. Bella Wang: The member of Shanghai Cooperation Organization includes many countries, including Republic of Kazakhstan, Kyrgyz Republic, Russian Federation, Republic of Tajikistan and more, which have rich Marine and inland water resources. As the only dredging company selected to join the SCO platform, this can provide us with broader markets and business opportunities and promote business expansion and cooperation.
Also, policy support; the SCO member states are committed to promoting regional economic development and cooperation through cooperation frameworks and agreements. Joining the SCO can enable dredging companies to benefit from policy support and cooperation mechanisms among member states and obtain a better policy environment and support.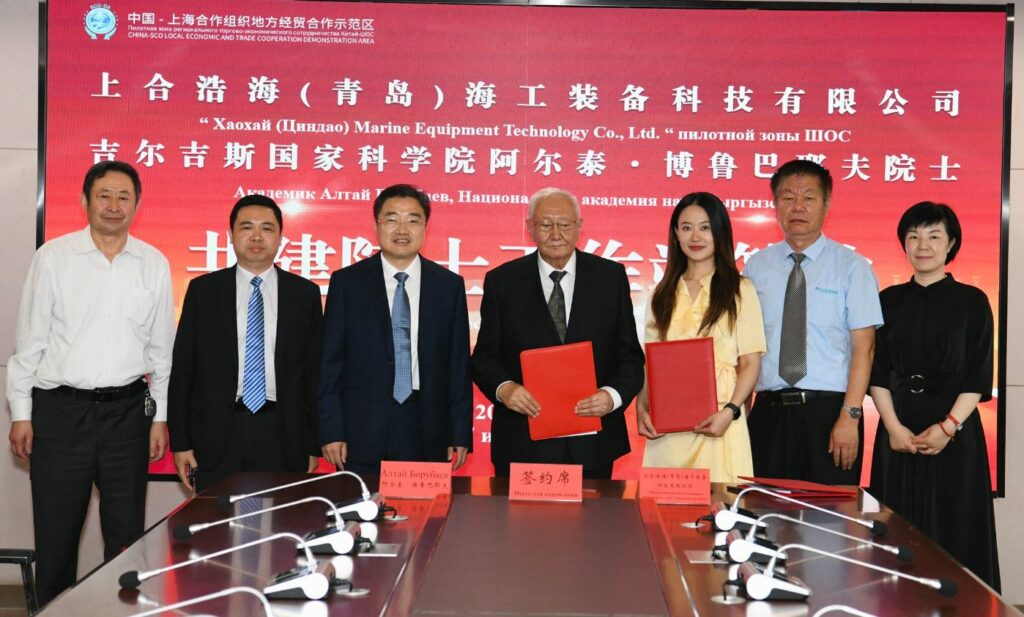 Knowledge sharing and technical cooperation – the SCO member states carry out extensive knowledge sharing and technical cooperation in various fields, including economy, science and technology, environment, etc. Joining the SCO allows for deeper exchanges and cooperation between dredging companies and member states, sharing best practices, technological innovations and experiences.
The SCO is committed to sustainable development and environmental protection. Membership in the SCO enables dredging companies to participate in sustainable development initiatives with member states, jointly promoting green dredging and environmentally friendly solutions to achieve a win-win situation for the economy and environment.
Q: HID assembled the largest chain bucket dredger in Shandong Province earlier this year. The chain bucket dredger has a 57-meter length, a dredging depth of up to 15 meters, and a production capacity of 850T per hour. Regarding this milestone, and some other important HID's achievements, is there a plan for expanding the existing markets with new state-of-the-art products and services?
Ms. Bella Wang: Absolutely, HID are committed to innovation and to building on previous milestones.
This remarkable piece of equipment showcases the company's engineering prowess and dedication to advancing the field of dredging, highlighting HID's commitment to pushing boundaries and delivering high-performance solutions.
Expanding into new markets with innovative offerings can include:
Research and Development: Investing in research and development dredging equipment that addresses emerging market needs and challenges. Exploring new industries or sectors that can benefit from HID's expertise.
Customization: Offering tailored solutions to meet the unique requirements of different regions or projects, demonstrating flexibility and adaptability.
Partnerships: Collaborating with local or international partners to combine expertise and resources for mutual growth and market penetration.
Service Enhancement: Developing comprehensive service packages that go beyond product delivery, providing ongoing support, maintenance, and training.
Marketing and Branding: Highlighting HID's achievements, technological advancements, and successful projects to build a strong brand reputation that attracts new customers.
Q: Do you believe that dredging industry can make a difference in improving the environment's quality, and what is your opinion on this?
Ms. Bella Wang: Dredging refers to the removal, enlargement or alteration of sediment at the bottom of a body of water to improve the navigability and water quality of a waterway, harbour, river or lake.
Dredging can have an environmental impact, first improving shipping lanes and port navigability, and promoting trade and economic development.
The second is to improve water quality and ecosystem health by removing harmful substances from sediment. Finally, it provides better habitats for aquatic plants and animals and promote biodiversity.
Q: Sustainability now comes in many forms, and as one the companies involved in making the high-quality dredging equipment, you have knowledge, data and expertise to make a positive difference. What are your priorities when it comes to creating sustainable dredging solutions?
Ms. Bella Wang: Safeguarding the environment: It is important to minimize the impact of dredging on the ecosystem. This can be achieved by implementing measures to decrease the release of harmful substances from sediment, monitoring the quality of water and biodiversity, and protecting sensitive species and habitats.
Enhancing energy efficiency and reducing carbon emissions: We can optimize dredging operations and equipment to reduce energy consumption and carbon emissions. This may involve using more efficient equipment, streamlining workflows, and adopting renewable energy sources.
Managing waste effectively: It is crucial to handle the waste and by-products generated during dredging in an environmentally friendly manner. This can be done by separating waste, recycling and disposing of it properly, as well as adopting sustainable waste disposal methods.
Q: What can you tell our readers about HID's most important goals and business plans for the upcoming period?
Ms. Bella Wang: HID's foremost goal is to continue driving innovation within the dredging industry. We invest in research and development of dredging technologies, providing excellent quality and highly efficient dredging equipment to meet global dredging market needs.
Also, we expand market reach to new regions and industries, forming strategic partnerships, and diversifying their service offerings to meet evolving client needs.
HID's business plans prioritize a customer-centric approach, focusing on understanding and addressing client needs with tailored solutions. This involves close collaboration, effective communication, and the provision of high-quality services that exceed expectations.